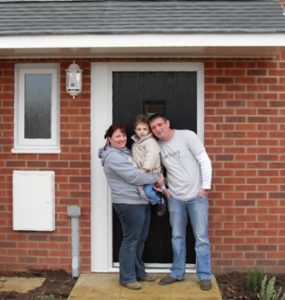 One of the greatest challenges faced by people in the South West is the impact of house prices that are above national average while average incomes are well below the national average. The beauty of the countryside and good transport links are attractive to both second home owners and to commuters to urban employment centres, many outside the county. The high demand for housing means that in Wiltshire average house prices are now over 11 times local incomes, and prices are well over this figure in rural areas.
The demand for housing that is affordable to people on local salaries well outstrips the supply of affordable homes at present. Each year that goes by with not enough homes being developed means that there is an ever increasing shortfall in housing supply and a bigger risk to the long term sustainability of communities and neighbourhoods. Young people who would like to live and work where they grew up are unable to do so and many move elsewhere. Older people who have reached a stage where they would like to downsize but remain in the communities they have lived in for years, find it difficult to find suitable properties in the same locality and are forced to move away. As people move away, local services and facilities may come under threat and close, threatening the sustainability of the whole community.
Many communities in England are beginning to take action themselves and develop small numbers of homes in their villages to provide accommodation for the key workers, young families and others with local connections who are so vital to sustaining village life in the long term. Setting up a local community land trusts (CLTs) is proving a very good way of doing this – check out the case studies to learn more about some active CLTs .
The data underlying these comments can be found in 'People, Places and Promises, The Wiltshire Community Plan 2011 to 2026'.